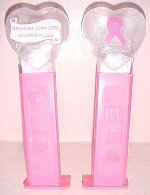 The Breast Cancer Awareness dispenser is the initiative of Craig Donellan. All the profits from this dispenser go to the Susan G. Komen Breast Cancer Foundation. Craig hopes to raise $50.000 by October 2005.
Dispenser
Edit
2005. A heart-shaped dispenser with on one side a scroll reading "Breast Cancer Awareness", and on the other side a pink ribbon for breast cancer awareness. It has a pink stem, has patent 4,966,305, and was made in Hungary.
Other Heart dispensers exist as well.
See also
Edit